Electronic Intifada
One Palestinian was killed by Israeli occupation forces during the month of July.
Ibrahim Abu Yaqoub, 29, was shot in the neck by soldiers, who claimed that the slain man and a companion were throwing Molotov cocktails at an army post. The mayor of Salfit, the West Bank governorate where the shooting occurred, said that Abu Yaqoub was killed without justification.
Twenty-six Palestinians have died by Israeli fire so far this year, 17 of them in the West Bank.
In Rafah, southern Gaza, Aseel Mahmoud Hamad Dheir, 34, died from wounds sustained during an Israeli airstrike on her home in the summer of 2014.
Some 2,200 Palestinians in Gaza were killed during 51 days of bombardment that summer, including around 1,500 civilians, one-third of them children.
Also during July, a long-serving Palestinian prisoner died after being held by Israel for 26 years. Palestinian human rights groups and political parties accused Israel of years of medical neglect in the death of Saadi al-Gharabli, 75.
Coronavirus
Israel continued to deny Palestinian prisoners held in overcrowded detention centers basic protections against COVID-19. The state's highest court ruled in July that Palestinian prisoners have no right to physical distancing.
Coronavirus cases soared in Israel and the West Bank in July. The epicenter of the West Bank outbreak is Hebron, followed by East Jerusalem, where Israel failed to set up testing facilities in a timely manner and hindered the procurement of essential equipment by hospitals.
As of 1 August, there were more than 15,000 confirmed cases of COVID-19 in the West Bank and Gaza with 85 deaths since the beginning of March.
New cases were detected among travelers returning to Gaza, where there has been no community outbreak of the virus so far, and one death.
Israel's COVID-19 response denied basic human rights to Palestinians on both sides of the Green Line, a human rights group stated in a report submitted to the United Nations in July.
Annexation
Israel walked back from formally annexing West Bank land despite Prime Minister Benjamin Netanyahu's election campaign pledge to do so, while de facto annexation continued on the ground.
In July, Israel demolished and seize Palestinian-owned structures in the West Bank despite the pandemic. More than 150 Palestinians have been displaced from their homes due to Israeli demolitions and seizures since the beginning March.
Settler attacks on Palestinians and their property were on the rise, including the torching of a mosque and poisoning of livestock ahead of the Eid al-Adha holiday.
Israeli forces seized some 100 food boxes from a Palestine Red Crescent Society storage center in East Jerusalem in July. Israel said that it confiscated the food boxes, which were going to be given to families isolating at home, because the distribution hadn't been coordinated with authorities.
Two cultural institutions in East Jerusalem were raided by Israeli police in July in what Palestinian groups said was an attack on civic space in the city.
Israeli forces meanwhile arrested Mahmoud Nawajaa, coordinator of the BDS – boycott, divestment and sanctions – movement, at his Ramallah home.
Palestinian groups have pointed to mounting pressures and shrinking space in which to operate as they seek to build global solidarity and pursue war crimes investigations at the International Criminal Court.
Palestinians in Gaza City borrow a slogan frequently used at Black Lives Matter demonstrations in the US during a protest against Israeli annexation on 1 July.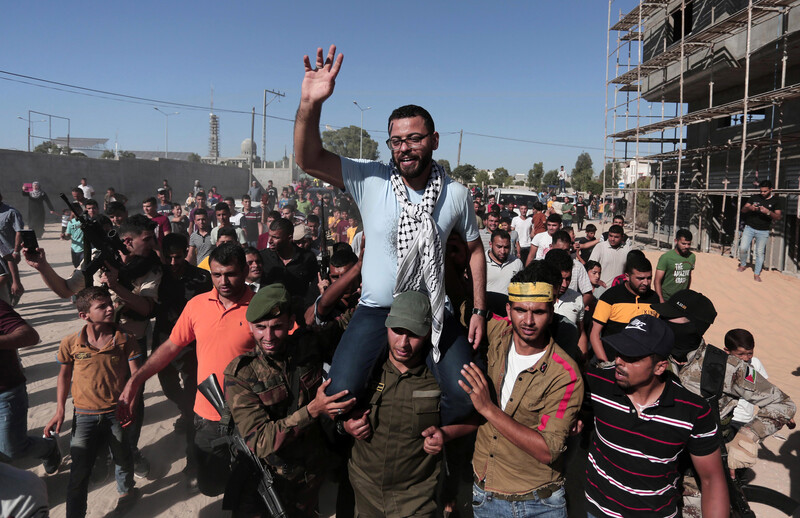 Newly freed Palestinian prisoner Iyad al-Jirjawi, 34, is welcomed home upon his release from an Israeli prison, Khan Younis, southern Gaza Strip, 2 July. Israel had faced calls to release al-Jirjawi, who served 9 years in prison, after he was diagnosed with a brain tumor.
Palestinian women protest against Israeli annexation in front Erez checkpoint in the northern Gaza Strip on 6 July.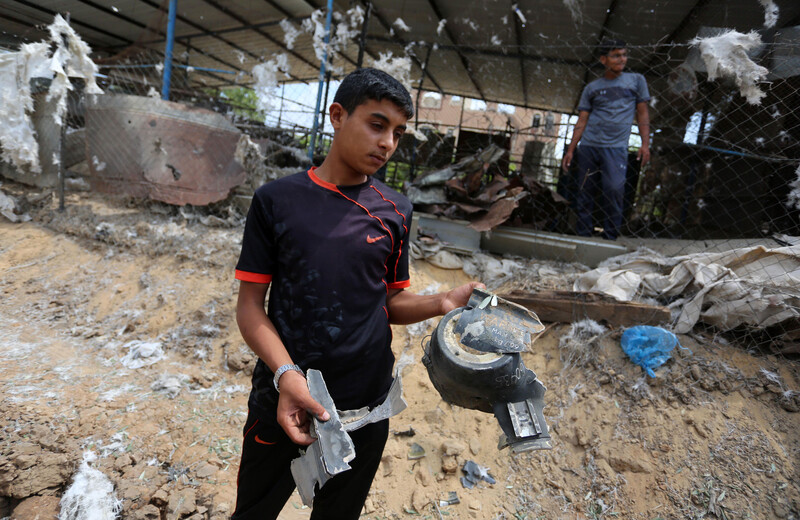 A Palestinian boy holds shrapnel from an Israeli airstrike in eastern Gaza on 6 July. Three rockets were fired from the northern Gaza Strip into Israel the prior evening as tensions flared amid Israeli plans to annex parts of the West Bank.
Palestinians protest against a new Israeli settlement outpost in the West Bank town of Asira al-Shamaliya near the northern West Bank city of Nablus on 10 July. Israeli soldiers prevented the protesters from reaching the outpost site and dispersed the crowd with gas and stun grenades.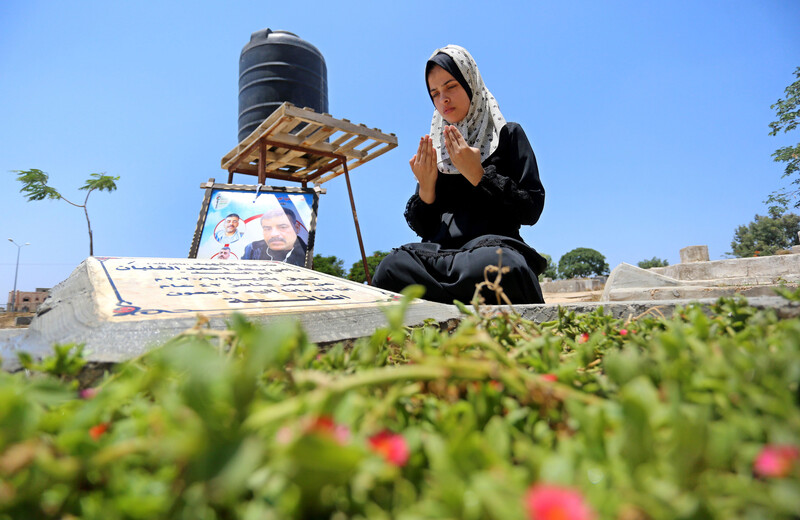 Qamar Saad al-Ghalban visits her father Rami's grave after receiving the results of her high school matriculation exam in Khan Younis, southern Gaza Strip, on 11 July. During the exam period, Rami Saad Al-Ghalban died from wounds sustained by Israeli sniper fire during protests in 2018.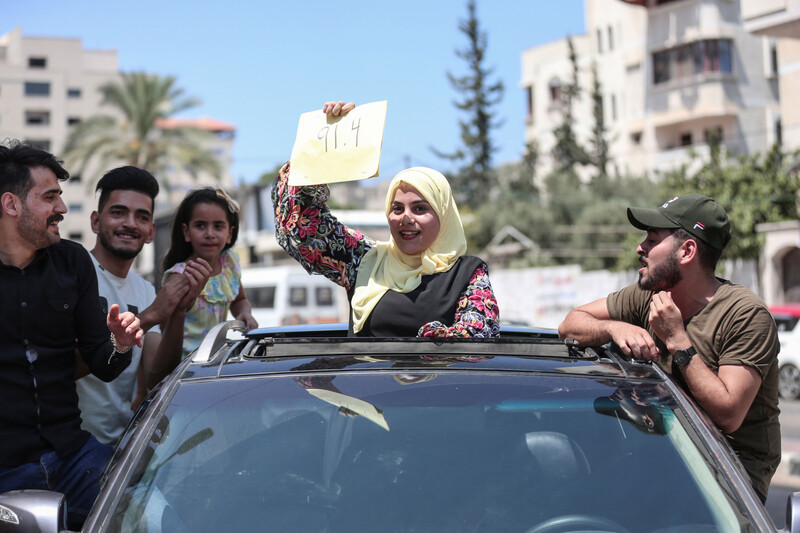 A Palestinian high school student celebrates after receiving her matriculation exam results in Gaza City on 11 July.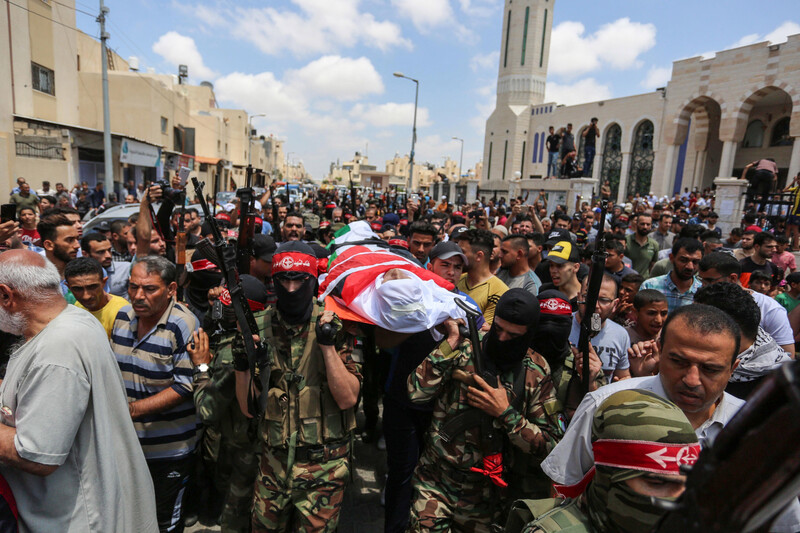 Palestinians take part in the funeral of Jabr al-Qiq, in Rafah, southern Gaza Strip, on 13 July. Al-Qiq, a retired Palestinian Authority brigadier-general, was murdered, allegedly by the sons of a man he killed at the order of a leftist faction during the first intifada. Al-Qiq had been imprisoned by Israel for 15 years and was released after the PA assumed power in Gaza.
Top high school students are honored at a Gaza City event organized by the Ministry of Education on 14 July.
Palestinians build a field hospital to house COVID-19 patients in Deir al-Balah, central Gaza Strip, on 15 July.
A Palestinian picks prickly pear fruit in Khan Younis, southern Gaza Strip, on 18 July.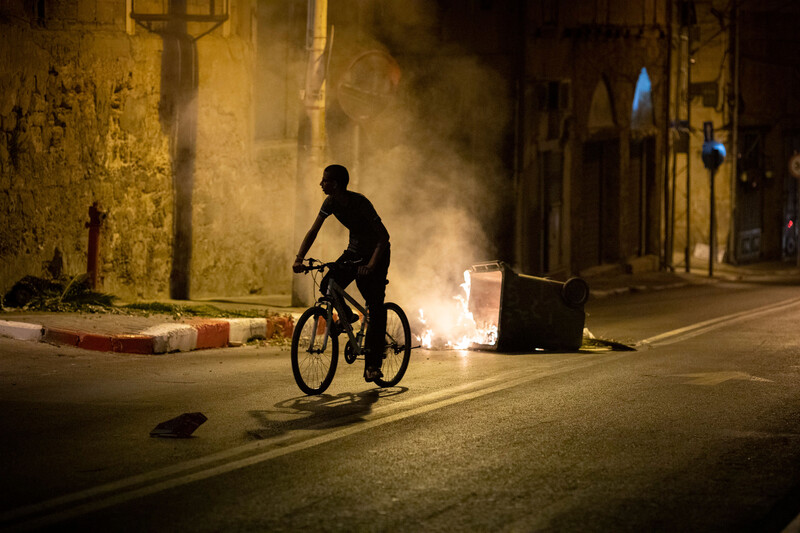 A bicyclist rides on a street in Jaffa as Israeli police disperse Palestinians protesting against the Tel Aviv municipality's plan to build a homeless shelter and commercial space over an 18th-century Muslim cemetery, 19 July.
Mohammad Shtayyeh, the appointed Palestinian Authority prime minister, meets with Nickolay Mladenov, the UN's Middle East peace envoy, in the West Bank city of Ramallah on 21 July.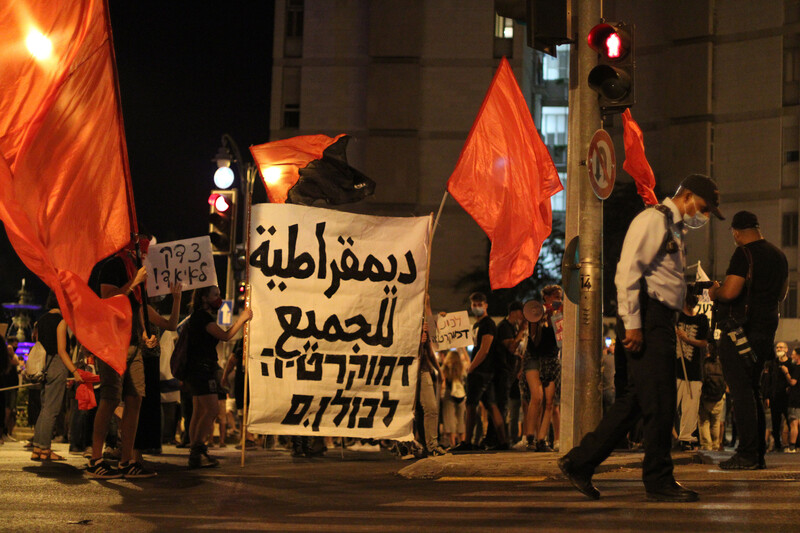 Anti-occupation activists carrying a banner reading "Democracy for all" protest outside Prime Minister Benjamin Netanyahu's official residence in West Jerusalem on 21 July.
An Israeli protester holds a poster of Iyad al-Hallaq, a Palestinian killed by police in East Jerusalem in May, while being sprayed by a water cannon outside Benjamin Netanyahu's official residence in Jerusalem on 22 July.
Israeli activists hang signs on security cameras in the Old City of Jerusalem where Iyad al-Hallaq was killed by police in May. The signs demand the release of security camera footage of al-Hallaq's killing; police claim that cameras at the site were not working at the time.
Palestinians protest against Israeli settlements and annexation in the village of Haris, southwest of the West Bank city of Nablus, on 24 July.
A Palestinian woman embellishes a garment with traditional cross-stitch at a Gaza City workshop on 25 July, which marks Traditional Palestinian Costume Day.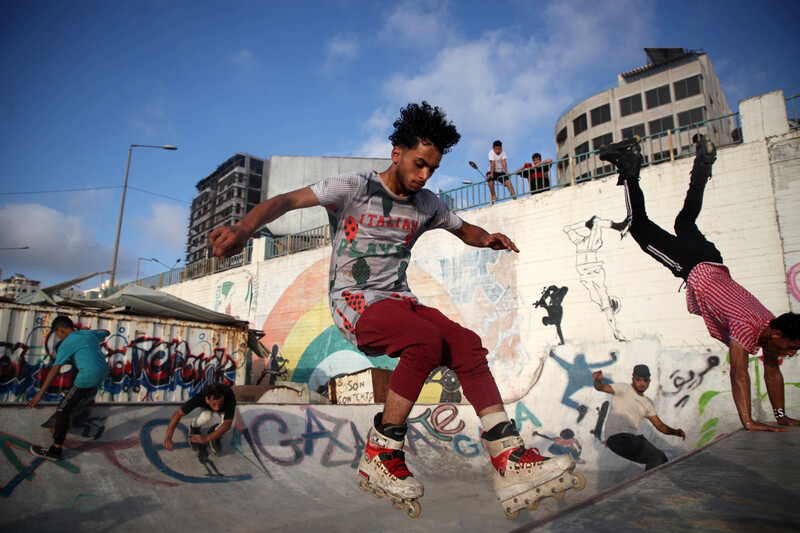 Palestinians skate at the Gaza City seaport on 25 July.
Palestinian weight trainer Sherine al-Eila leads an exercise session at a Gaza City gym on 26 July. Al-Eila is the first female weight trainer in Gaza.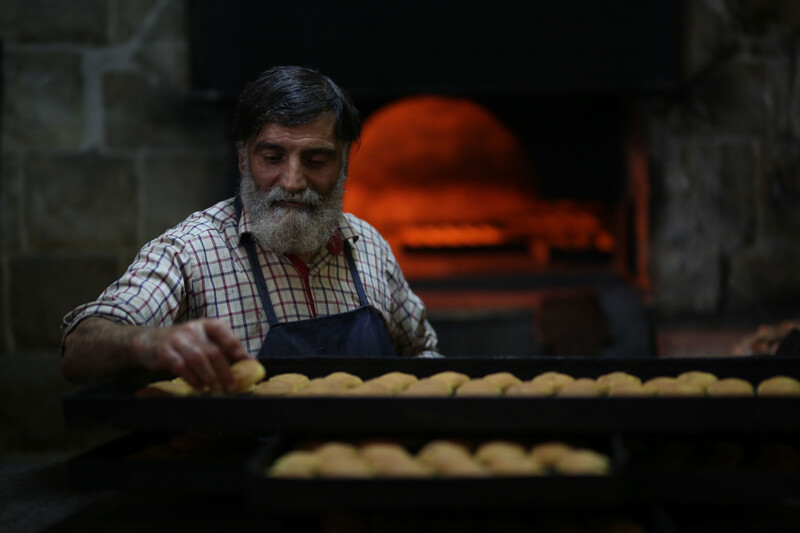 A Palestinian worker makes traditional date-filled cookies ahead of the Eid al-Adha holiday in the West Bank city of Nablus, 28 July.
Palestinians gather at a livestock market in Deir al-Balah, central Gaza Strip, ahead of the Eid al-Adha holiday on 28 July.
Athletes compete in the final match of an amputee football league at Yarmouk stadium in Gaza City on 29 July.
Palestinians gather in Haifa calling for safety and liberation on 29 July. The march was organized by alQaws for Sexual and Gender Diversity in Palestine along with other LGBTQ and feminist Palestinian organizations to protest against patriarchal, colonial and capitalist oppression.
Maria ZreikActiveStills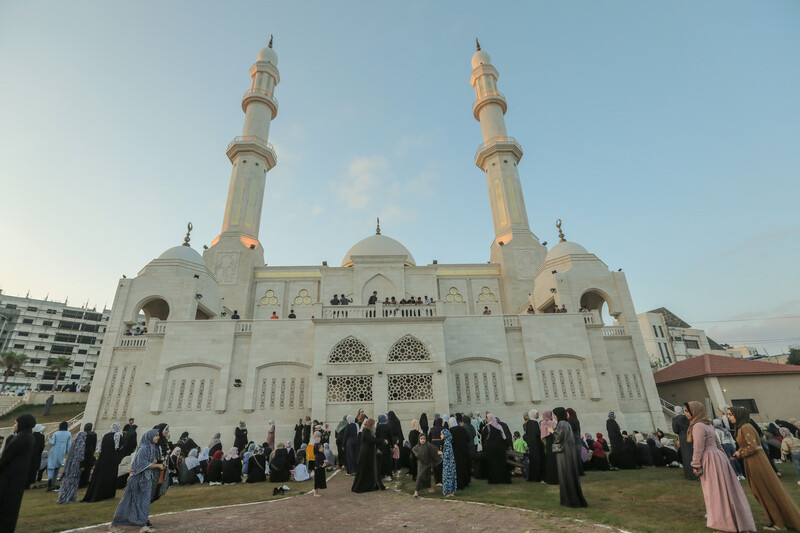 Electronic Intifada